Het Park - Rotterdam, The Netherlands To "All Courses" list

Located under the shadow of the Euromast (Space Tower) in Rotterdam. An incredibly beautiful course with very mature trees and many water hazards. There are a number of ponds that come into play as well as the canals, that are a distinctive feature of the course. Even though the goals are lamp posts, it is well worth the trip if you are anywhere near the area. There are two restaurant/bars right on the course, (under the "Needle") that are reasonably priced and have friendly staffs.

Holes: 18-lamp posts No tee signs. Tees: Grass/Asphalt
Total length-5610 feet, 10 holes under 300ft, 5 holes 300-400ft, 3 holes over 400ft
Pro:
Arthur Haverkamp
Oostzeedijk Beneden 17E
3062 vj Rotterdam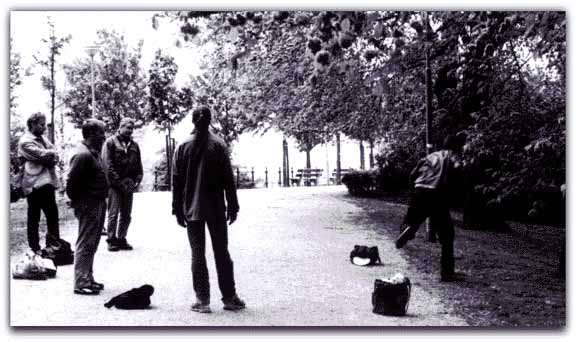 Click to see another huge black and white.

Click to see one of the restaurants that doubles as the entrance, and Jeff throw the "over a canal, thru the trees and then under 'em, roller".